This Keto Chicken Enchilada Bowl is a low carb twist on a Mexican favorite! It's SO easy to make, totally filling and ridiculously yummy!
Who doesn't love Mexican Food?!
Okay, well I know of one person but I'm pretty sure he's just confused.
Mexican food has always been one of my favorite cuisines. Those cravings get even stronger with pregnancy, let me tell you.
I'm due in just a few weeks (hooray!) so now my focus if shifting to meals that can be prepared a couple different easy ways and frozen.
KETO CHICKEN ENCHILADA BOWL
I made this Keto Chicken Enchilada Bowl on the stove top, but it can easily be made in a slow cooker or an Instant Pot by adding the chicken, enchilada sauce, chiles and onions together and letting them cook on low heat all day.
The chicken and sauce mixture can ALSO be prepared ahead of time and frozen so when it's time to reheat ( I would probably let it thaw and then heat in a pot on the stove top) you can just add a steamer bag of cauliflower rice and your fresh toppings. Pretty simple!
Another option would be to make the cauliflower yourself. If you're not familiar with the dish, it's pretty simple…just grated cauliflower that you can prepare yourself with a fresh head and a food processor. My new favorite way to prepare it is found in my Keto Mexican Cauliflower Rice recipe. Delicious!
You can also make your own enchilada sauce or buy some in the store. Here's a low carb enchilada sauce recipe if you'd like to make your own.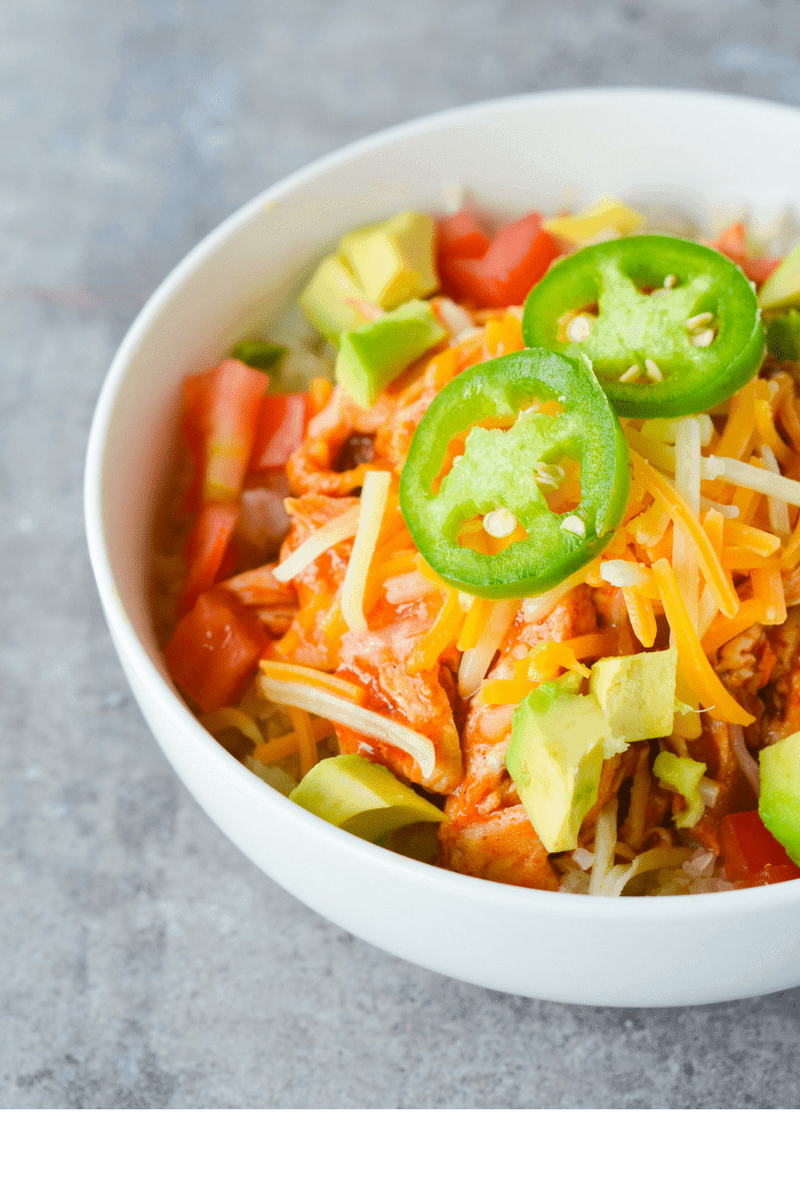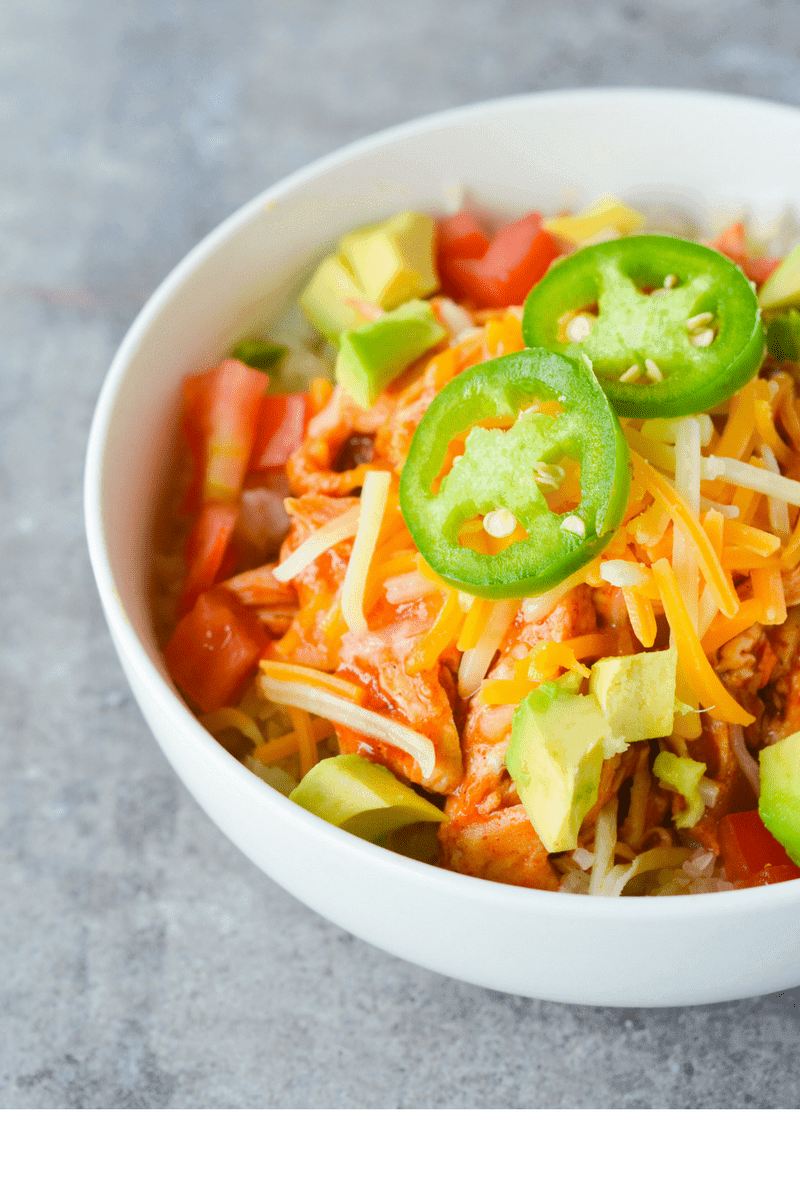 KETO CHICKEN ENCHILADA BOWL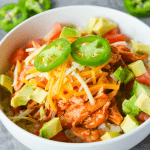 ingredients
2-3 chicken breasts (about one pound of chicken)
3/4 cups red enchilada sauce
1/4 cup water
1/4 cup onion
1 4 oz can green chiles
1 12oz steam bag cauliflower rice
Preferred toppings- I used avocado, jalapeno, cheese, and roma tomatoes
Seasoning, to taste
instructions
In skillet over medium heat cook chicken breasts until lightly brown
(I cut each breast into 3 or 4 large pieces to cook faster)
Add enchilada sauce, chiles, onions, water and reduce heat to simmer, covered
Cover and cook until chicken is cooked through and shred chicken
Add chicken back into sauce and continue simmering for additional 10 minutes uncovered or until most of liquid has been soaked up
Prepare cauliflower rice per bag instructions and dice preferred toppings
Top rice with chicken, cheese, avocado or preferred toppings
notes
The nutritional info is based on the brands and amounts I used and ONLY includes the chicken, enchilada sauce, onion, chiles and cauliflower rice. Enchilada sauce can vary greatly by brand or homemade ingredients, please import this recipe to your My Fitness Pal and choose your brands for more accurate information.
No toppings have been included in these nutritional totals.
nutrition
Serving Size: 

1/4 recipe yield

Calories: 

120

Sugar: 

2

Fat: 

2

Carbohydrates: 

6

Fiber: 

1

Protein: 

18